This FH5 tuning guide goes through the best parts and tuning needed to make the BMW M8 Best Drag Tune.
Vehicle Overview
The BMW M8 Competition is a high-performance sports car that was first introduced in 2018. It is based on the BMW 8 Series coupe, which was also introduced in 2018.
The M8 Competition is a more powerful and performance-oriented version of the 8 Series, and it has been praised by automotive journalists for its excellent handling and powerful engine.
The M8 Competition is powered by a twin-turbocharged 4.4-liter V8 engine that produces 625 horsepower and 553 lb-ft of torque.
It is paired with an eight-speed automatic transmission and rear-wheel drive. The M8 Competition can accelerate from 0 to 60 mph in 3.2 seconds and has a top speed of 190 mph.
The BMW M8 Competition is available in two body styles: coupe and convertible. It competes against other high-performance luxury cars such as the Mercedes-AMG S 63 Coupe and the Audi RS 7 Sportback.
Try out our Forza Horizon 5 M5 Race Tune while you're here…
Drag Tune Specs
Top Speed: 277.7MPH
0-60MPH: 1.364s
0-100MPH: 2.854s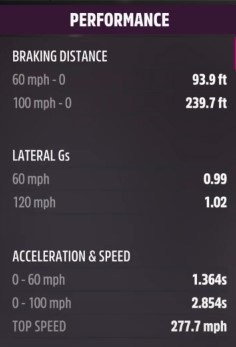 BMW M8 Best Drag Tune – Car Parts
Copy the specs below to make the M8 Competition drag tune. The parts you put on the body are nearly all optional. However, removing the wing is probably the most important. In this tune, the Front Bumper has been left stock, remove the wing, and finally add the AC Schnitzer Street Hood.
Engine: Racing 3.0L I6T
Drivetrain: RWD
Tire: Drag
Rear Tire Width: 295MM Rear Tires
Front Track Width: Upgrade 1
Rear Track Width: Upgrade 1
Transmission: Stock
Driveline: Race
Differential: Race
Spring and Dampers: Race
Front Anti Rollbar: Race
Rear Anti Rollbar: Race
Weight Reduction: Race
Fuel System: Race
Ignition: Race
Displacement: Race Engine Block
Single Turbo: Race
Drag Tuning
Make the tweaks below to your M8. Try it out on the track and make any tuning changes needed to suit your style. This is a great base drag build.
Tires
Gearing
Final Drive: 2.65
1st: 4.27
2nd: 2.57
3rd: 1.73
4th: 1.22
5th: 1.06
6th: 0.94
Alignment
Camber
Toe
Front Caster
Antiroll Bars
Springs
Ride Height
Damping
Rebound Stiffness
Bump Stiffness
Aero
None
Brake
Braking Force
Balance: 50%
Pressure: 100%
Differential
Front
Acceleration: 100%
Deceleration: 70%
Summary
This tune was made by Boosted LLC. Check out his channel sometime.