Imagine having the finger strength to click a thousand times on your screen every second. If you had the power, you'd be able to dig, attack, and build rapidly in Minecraft. Many video games require repeated clicks. Take shooting games, for example. You are supposed to click non-stop to kill your enemies. As tempting as it sounds, clicking your mouse hundreds of times without a break can get tiring. Besides that, repeated clicks might affect the functionality of your mouse. 
So, is there any way to win these games without tiring your fingers?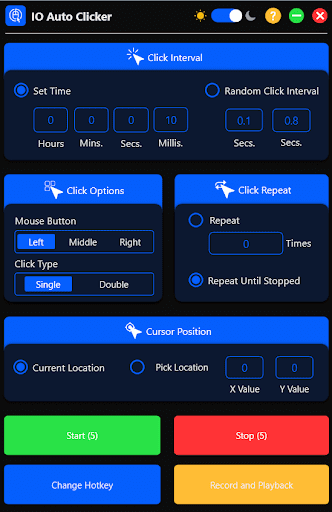 Well, auto-click is your best bet! It's the easiest way to automate mouse clicks at your desired location. Auto-clicker is software that duplicates manual clicking. To customize the auto-clicker to your needs, you can set the intervals for clicks, number of clicks, location, and other settings. Although they are primarily designed for video games, you can use an auto-clicker for just about any activity that requires repeated mouse clicks. The tool is available for Windows, smartphones, tablets, and other screens. In this post, we will walk you through the best auto-clickers for windows. Let's take a look:
IO Auto Clicker
One of the biggest issues with auto-clicking software is getting banned. You can be caught if you set clicks at regular intervals. To fix this issue, IO  Auto Clicker has added the Random Click Interval function that triggers automatic clicks at random times instead of specific intervals.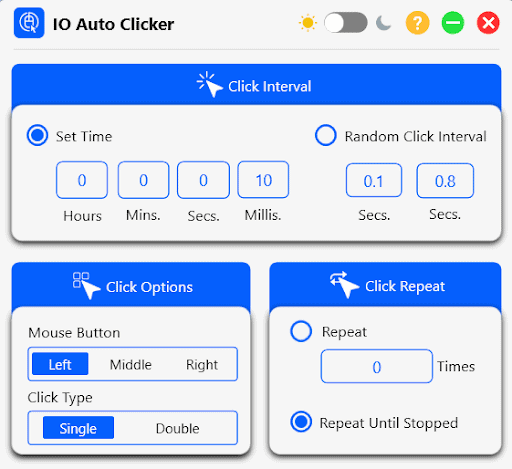 The interface is simple and is available in both light and dark modes. Set the number of clicks, decide an interval, and record these clicks. In addition to gaming, IO Auto Clicker comes in handy for data entry applications. It is your ideal software for nearly all tasks that require repetitive clicks. Save yourself the time of clicking multiple times and let the IO Auto Clicker do the hard work. Gamers can use Autoclicker.io for Minecraft, Roblox, and shooting games that require hundreds of clicks per second. 
GS Auto Clicker
Launched by Golden Soft, GS Auto Clicker is an easy-to-use and functional software that can be used for executing infinite clicks on Windows. The developers have added a hot-key feature, making gamers' lives a lot easier. You can set a hotkey that will trigger the mouse clicks. As soon as you press the hotkey, the tool will start clicking. 
GS auto-clicker is an excellent tool for beginners. Featuring an easy-to-use interface and advanced customization options, it is a go-to software for people tired of repeated mouse clicks. It allows you to set the number of clicks, intervals, type of clicks, and location. 
Fast Mouse Clicker Pro
Looking for the fastest auto-clicker for Windows? Fast Mouse Clicker Pro is a free and easy-to-use software for auto-clicks. The tool can click as much as 100,000 times per second. The goal of the software is to make clicking easier and faster for gamers while protecting their mouse from wear and tear due to frequent use. 
They have included the middle section of the mouse, in addition to the left and right buttons. Like GS and other auto-clickers on this list, Fast Mouse Clicker Pro also runs on hotkeys. You can select a hotkey on your mouse or the keyboard and press it when you need to activate automated clicks. 
Free Auto Clicker
Free Auto Clicker is not your entry-level automatic clicking tool. It's an all-in-one software that can be configured for your clicking requirements. Enjoy a fast, seamless, and hassle-free gaming experience with Free Auto Clicker. You can open other apps in the background while this auto-clicker takes care of clicks.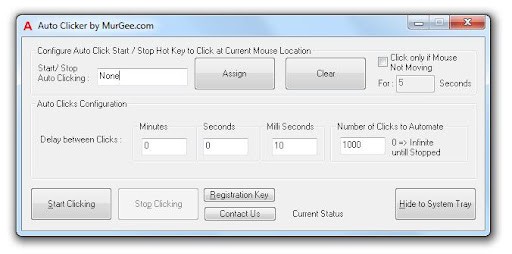 When looking for auto-clickers, you don't only need a tool that performs repeated clicks, but a software that offers 100% accuracy. This is important for gamers who need the clicks to be precise. Once you have recorded the clicks you want for the game, the tool will handle the rest for you. You don't even have to keep your computer open for the Free Auto Clicker to work. Shut down your system and enjoy a good night's sleep while this automated clicker improves your scores in video games. 
Another benefit of this free automated clicking software is its universal application. In addition to gaming, you can use it for any purpose that requires frequent clicks. You could even use it to prevent your screen from sleeping due to inactivity.
Murgee
Murgee allows you to set the X and Y coordinates to achieve the highest level of accuracy in clicks. Players love this tool for the range of customizations it has to offer. You can customize the hold-left, hold-right, middle, and other buttons for the best click experience. Set the number of clicks and the interval and Murgee will do the rest. 
Murgee also allows you to set a hotkey that triggers automated clicks. It can be an alphabet or digits. The repeat count feature shows how many times the clicks will run. Let's say you set it to "0". This will imply infinite clicks. You need to schedule the clicks after saving the settings. The only downside to this software is that it isn't free. You can use its free trial, but that's available for only 20 uses. After the free trial, you need to purchase its paid plan.
FAQs
Q1. Will I get banned if I use an automated clicker?
It depends on the software you are using. If it's a high-quality auto-clicker with a random click interval feature, the app will not notice automated clicks. 
Q2. Is it safe to use auto-clickers?
Yes, auto-clickers are safe. They allow you to automate clicks and set intervals for the same. It's best to check the authenticity of the software before buying, though. 
Q3. Which auto-clicker is easy to use?
Murgee, IO, and GS auto clickers are some of the easiest clicking bots. 
Bottom Line
While each automated clicking software mentioned above works well, IO Auto Clicker and Fast Mouse Clicker Pro are players' favorites. Automate your clicks with these tools and enjoy the best gaming experience on windows.