In this guide, we take you through the best Supra MK4 Drift Tune in Forza Horizon 5. The Supra is one of the most iconic JDM cars in the world and a Forza fan favorite.
This guide goes through the specs of the car including every part you need to create the perfect Supra drift build. Also, we include the specific tuning needed to keep the car sideways. Enjoy!
YO… IS THAT A SUPRA?!?!?
Vehicle History
The Supra is a Rear-Wheel Drive Japanese sports car that debuted in 1993. Production ceased in 2002 until Toyota restarted production of the Supra in 2019. The Supra has been in every Forza game except Forza Motorsport 6 and Motorsport 7.
In Forza Horizon 5, the Supra is available to purchase in the Autoshow for 38,000 CR. You can also get your hands on the Supra through the Auction house. As of now, the car cannot be obtained in a Wheelspin.
Drift Tune Specs
Below are the performance specs for the drift tune Supra. She's packing 766 BHP with 636lb of Torque. With Stock weight reduction she stays at 3,294lbs.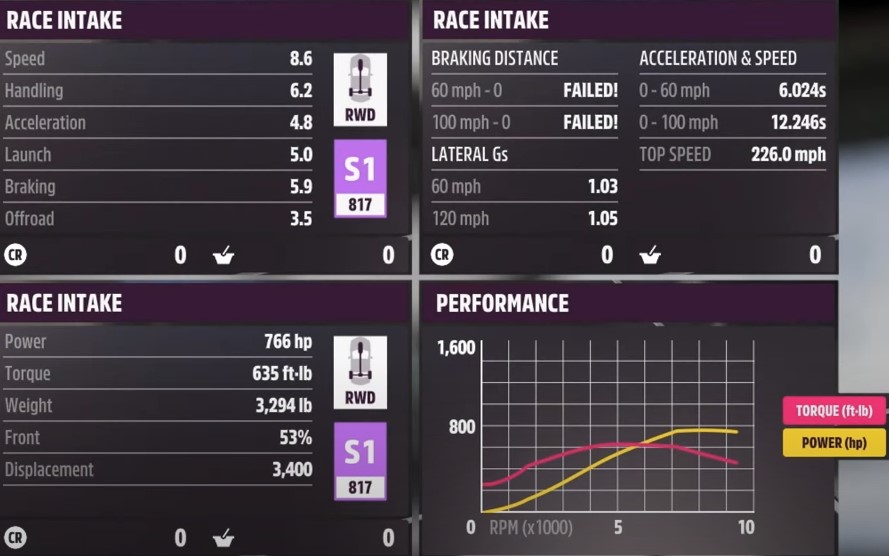 Drift Car Parts
Below are the car parts needed to create the best Supra Drift Tune. Most of which are Race with a few differences here and there.
Engine: Stock Powertrain Swap
Aspiration: Stock – Twin Turbo
Tire: Drift
Front Tire Width: 235mm
Rear Tire Width: 255mm
Front Track Width: Max
Read Track Width: Max
Clutch: Race
Transmission: Race
Driveline: Race
Differential: Drift Diff
Brakes: Race
Spring and Dampers: Drift
Front Anti Rollbar: Race
Rear Anti Rollbar: Race
Chassis Reinforcement Roll Cage: Race
Weight Reduction: Stock
Intake: Race
Fuel System: Race
Ignition: Race
Exhaust: Race
Valves: Race
Displacement: Race
Pistons/ Compression: Race
Twin Turbo: Stock
Intercooler: Race
Oil/Cooling: Race
Flywheel: Stock
Drift Tuning
Here is the juicy part. These are the specific tweaks you need to make to turn your Supra into an animal on those corners. Check them out below and copy them accordingly.
Tires
Gearing
Final Drive: 2.90
1st: 3.50
2nd: 2.50
3rd: 1.80
4th: 1.50
5th: 1.20
6th: 0.80
Alignment
Camber
Toe
Front Caster
Antiroll Bars
Springs
Ride Height
Dampings
Rebound Stiffness
Bump Stiffness
Aero
None
Brake
Braking Force
Balance: Rear 25%
Pressure: Low 20%
Differential
Acceleration: 100%
Deceleration: 100%
Summary
So there it is, make sure to wear your seatbelt and drive responsibly. This tune was originally created by the UCXT Ant YT channel.
If you enjoyed this drift tune guide. Check out more of our Horizon 5 Drift Tune Guides while you're here.