The Nissan Silvia s15 is an icon of drifting in Forza Horizon. If you meet a drifting convoy you can be sure as hell there will be a Silvia or two. This guide goes through the best Silvia drift tune in Horizon 5.
We take you through the drift builds specific parts and tuning. The Silvia is one of my favorite cars to drift in Forza. I hope you like it too!
Silvia Drift Tune Specs
We can see from the stats below the Silvia after the parts have been added is now 2406lb and 760 HP. It also gained some lateral Gs and has gone from B class to S1.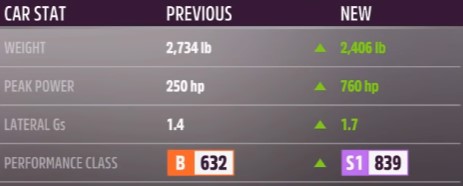 Silvia Drift Car Parts
As with all the Horizon 5 drift builds, most of the car parts are maxed out to Race class. But pay attention to some of the specifics below.
Engine: 3.2L I6
Tire: Drift Tires
Front Tire Width: 245mm
Rear Tire Width: 255mm
Front Track Width: Full
Rear Track Width: Full
Clutch: Race
Transmission: Race Transmission
Driveline: Race
Differential: Drift Diff
Brakes: Race
Spring and Dampers: Drift
Front Anti Rollbar: Race
Rear Anti Rollbar: Race
Chassis Reinforcement Roll Cage: Race
Weight Reduction: Race
Intake: Race
Fuel System: Race
Ignition: Race
Camshaft: Race
Valves: Race
Displacement: Race
Pistons/ Compression: Race
Twin Turbo: Race
Intercooler: Race
Oil/Cooling: Race
Flywheel: Race
240sx Drift Tuning
Below are the specific tuning changes made to the Silvia. This is the most important part of the tuning process because this determines how the car handles those corners. Make any necessary adjustments as you see fit.
Tires
Gearing
Final Drive: 3.45
1st: 4.14
2nd: 2.67
3rd: 1.82
4th: 1.32
5th: 1.15
6th: 0.85
Alignment
Camber
Toe
Front Caster
Antiroll Bars
Springs
Ride Height
Dampings
Rebound Stiffness
Bump Stiffness
Aero
None
Brake
Braking Force
Balance: Leave as is
Pressure: leave as is
Differential
Acceleration: 100%
Deceleration: 70%
Summary
Now you got the best Silvia drift tune and a great starter drift tune if you are only getting into drifting in Forza Horizon 5.
If you would make any changes to the tune above, please tell us in the comments below.