This drag focuses on the Best Chevrolet Chevelle Drag in Forza Horizon 5. Specifically the best tune for the 1970 Chevrolet Chevelle Super Sport 454. We go through the exact parts and tuning needed to make the tune.
The Chevrolet Chevelle has appeared in every Forza since Motorsport 2. However, it didn't make the cut for Horizon 1 for whatever reason. In Horizon 5, it can be purchased through the Autoshow for 80,000 CR, it can also be bought at the Auction House or obtained in a wheelspin.
Vehicle History
The Chevrolet Chevelle Super Sport is part of three generations of Chevelle. Production of the Chevelle started in 1964 and ended in 1978. The Super Sport model was introduced in 1973. The Chevelle includes a whole range of styles including hardtops, convertibles, coupes, and sedans.
If you liked this tune, make sure to check out more of our Forza Horizon 5 Drag Tune Guides while you're here.
Drag Tune Specs
This animal has a total of 1500HP and hits 60MPH in 1.7 seconds. Were packing a total of 1100 lb of torque.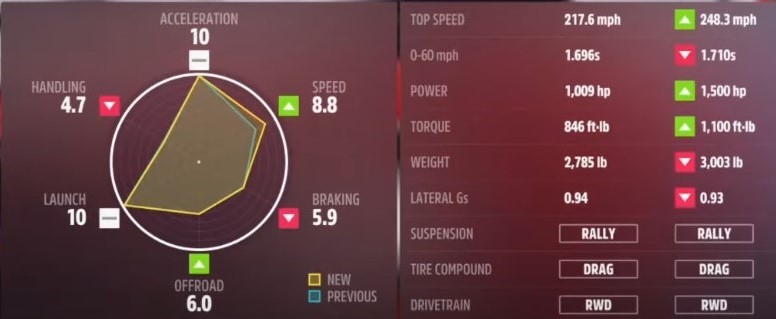 Drag Car Parts
The drag parts below are pretty much all maxed out to race except the drivetrain. Spring and dampers, chassis, and oil cooling. We need the springs to be rally to keep them nice and soft. Were also packing the monster 8.9L V8 engine swap.
It's important to note that if you swap the engine out with the V8, you won't be able to make any changes in the Engine section. But if keep the stock the engine all the engines tweaks below apply.
Engine: 8.9L V8 DSC
Drivetrain: Stock
Aspiration: Positive Displacement Supercharger
Tire: Drag
Front Tire Width: 215mm
Rear Tire Width: 345mm
Front Track Width: Max
Read rack Width: Max
Clutch: Race
Transmission: Race
Driveline: Race
Differential: Race
Brakes: Race
Spring and Dampers: Rally
Front Anti Rollbar: Race
Rear Anti Rollbar: Race
Chassis Reinforcement Roll Cage: Stock
Weight Reduction: Race
Intake: Race
Carburetor: Race
Ignition: Race
Camshaft: Race
Exhaust: Race
Valves: Race
Displacement: Race
Pistons/ Compression: Race
Positive Displacement Supercharger: Race
Intercooler: Race
Oil/Cooling: Stock
Flywheel: Race
Drag Tuning
The tuning below is perfect for the 1500HP 8.9L engine swap. Copy the exact tuning you see below. Let us know in the comment section if you would change anything with the tune.
Tires
Gearing
Final Drive: 2.20
1st: 4.50
2nd: 3.00
3rd: 2.20
4th: 1.65
5th: 1.30
6th: 1.10
Alignment
Camber
Toe
Front Caster
Antiroll Bars
Springs
Ride Height
Damping
Rebound Stiffness
Bump Stiffness
Aero
None
Brake
Braking Force
Balance: 50%
Pressure: 100%
Differential
Front
Acceleration: 100%
Deceleration: 100%
Summary
This tune was originally built by MARZ TUNING on YouTube. Check out his awesome drag tunes on his channel sometime.