The C58 is an assault rifle that was added to Call of Duty: Black Ops Cold War as part of the Season Four of the game.
Despite its lack of mobility, this AR behave really well in close-quarters battles. It is described as an assault rifle with "high damage at close range with a slower fire rate."
However, even with a slow fire rate, the C58's damage accuracy, bullet velocity, and recoil control make it particularly useful also for long-range combat in Cold War's multiplayer, making it a great choice for people who like the SMG playstyle with the perfect combination to close and long-range combat.
How Can We Unlock This Weapon?
In order to get their hands on the new C58, players must reach Tier 31 in the Battle Pass, and it's free for all players. Once achieved, the weapon will be unlocked and ready on the inventory.
Now let's check the stats:
Stats
Damage: 38
Rate of Fire: 555 RPM
Recoil: Low
Magazine Size: 20 rounds (25, 30, 35 and 60 with ammunition attachments)
Starting Ammunition: 20+60
Maximum Ammunition: 20+120 (MP) / 20+220 (ZM)
Reload Time: 2.4 seconds
Fire Mode: Fully-Automatic
As we can check on the weapon stats, it has decent damage, and a good Rate of Fire of 555 RPM.
The Reload Time is also acceptable, requiring only 2.4 seconds to be back on fight. In addition, the AR has a low recoil and allows you to easily control the weapon in clashes with enemies.
Best Attachments
Analyzing all the C58 characteristics so far, the best attachments for the C58 in Cold War are:
Muzzle: Infantry Compensator
Barrel: 18.7″ Reinforced Heavy
Underbarrel: Field Agent Grip
Optic: Microflex LED
Magazine: Salvo 30 Rnd Fast Mag
Since the C58 has a moderate firing rate, you must ensure that every shot strikes the enemy. I've built this C58 attachment with recoil control and damage range in mind, so you can successfully perform the anchor role and keep opponents away from the objective.
The Microflex LED for will be necessary here for a clearer view. This 18.7 Reinforced Barrell provides a significant boost in range efficiency, and the Infantry Compensator combined with Field Agent Grip gives us an excellent recoil control.
Lastly, Salvo 30 Rnd will provide more ammo to survive longer in battle.
Best Class Setups
Class 1 – No Recoil
Gunsmith:
Optic: Microflex Led
Muzzle: Infantry Compensator
Barrel: 18.7″ Reinforced Heavy
Body: KGB Target Designator
Underbarrel: SFOD Speedgrip
Magazine: 35 RND Drum
Handle: Serpent Wrap
Stock: Raider Stock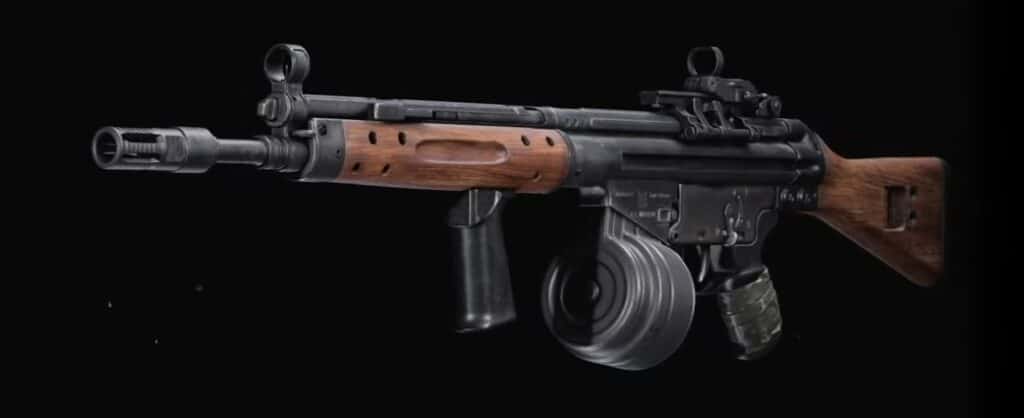 Class Setup
Secondary: Gravitazer
Perk 1: Flak Jacket
Perk 2: Scavenger
Perk 3: Ninja
Lethal: C4
Tactical: Stimshot
Field Upgrade: Jammer
Wildcard: Gunfighter
Class 2 – Damage
Gunsmith:
Muzzle: SOCOM Eliminator
Optic: Millstop Reflex
Barrel: 18.7″ Reinforced Heavy
Body: Mounted Flashlight
Underbarrel: Foregrip
Magazine: Salvo 30 Rnd Fast Mag
Handle: Field Tape
Stock: Tactical Stock

Class Setup
Secondary: Akimbo
Perk 1: Flak Jacket
Perk 2: Scavenger
Perk 3: Ninja
Lethal: Semtex
Tactical: Stimshot
Field Upgrade: Proximity Mine
Wildcard: Gunfighter 
Class 3 – Tactical
Gunsmith:
Optic: Microflex LED
Barrel: 18.7″ Ranger
Underbarrel: Foregrip
Magazine: Salvo 30 Rnd Fast Mag
Stock: Raider Stock

Class Setup
Secondary: Tiny Comrade
Perk 1: Flak Jacket
Perk 2: Scavenger
Perk 3: Ninja
Perk 4: Tactical Mask
Perk 5: Quartermaster
Perk 6: Ghost
Lethal: Semtex
Tactical: Stimshot
Field Upgrade: Proximity Mine
Wildcard: Perk Greed