The Rytec AMR sniper rifle is a semi-automatic Anti Material Rifle. It is great in long-range engagements and is considered very effective against vehicles in Warzone because of the thermite and explosive rounds.
Today's guide will break down the Rytec AMR and provide weapon stats such as damage, ROF, and recoil. We will also discuss the best attachments and class setups for the RYTEC AMR in Modern Warfare.
Weapon background
The Rytec AMR sniper rifle is most akin to the Barret 50.cal from previous Modern Warfare releases. The Barrel 50.cal features in COD4, MW2, MW3 as well as Black Ops 2.
Stats
Damage: Head: 224, Chest: 112, Torso: 102, Limbs: 91
Rate of Fire: 163RPM
Recoil: High
Best Attachments
The best attachments for the Rytec AMR in Modern Warfare are the:
FTAC Seven Straight barrel
FTAC 448mm Dictator barrel
Dictator Barrel
Thermal Optic
Stippled Grip Tape
The Seven Straight barrel is an all-around great attachment for all playstyles. The Dictator Barrel is best suited for quickscopers and the Stippled Grip Tape is a solid attachment for ADS and Sprint to Fire speed.
Best Class Setups
Class 1 – Best Rytec Warzone Class
This is the ultimate Warzone class. It combines the power of the Rytec's explosive rounds and the firepower of the Grau. Attach the following onto the Rytec: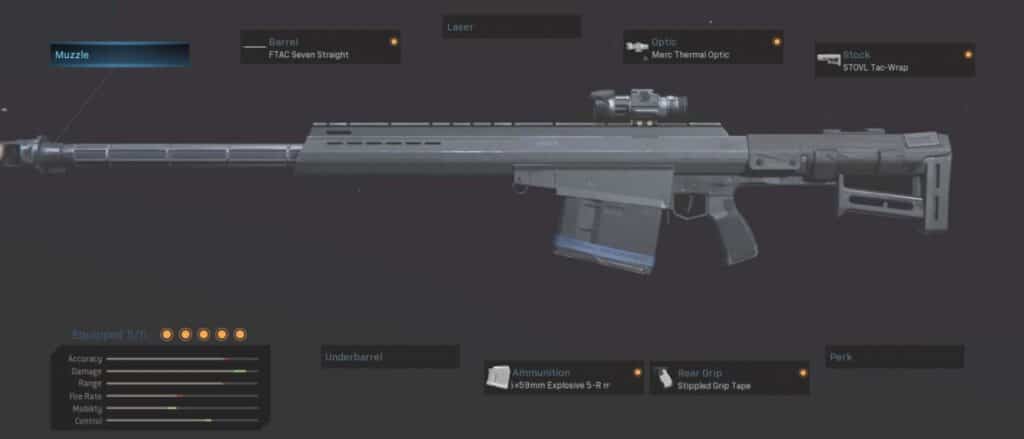 FTAC Seven Straight
Merc Thermal Optic
STOVL Tac Wrap
Explosive Rounds conversion
Stippled Grip Tape
Class Setup
The rest of the class is perfect for Warzone. It also works great in other game modes such as Groundwar and Domination. E.O.D., Battle Hardened, and Overkill are a serious combination in Warzone.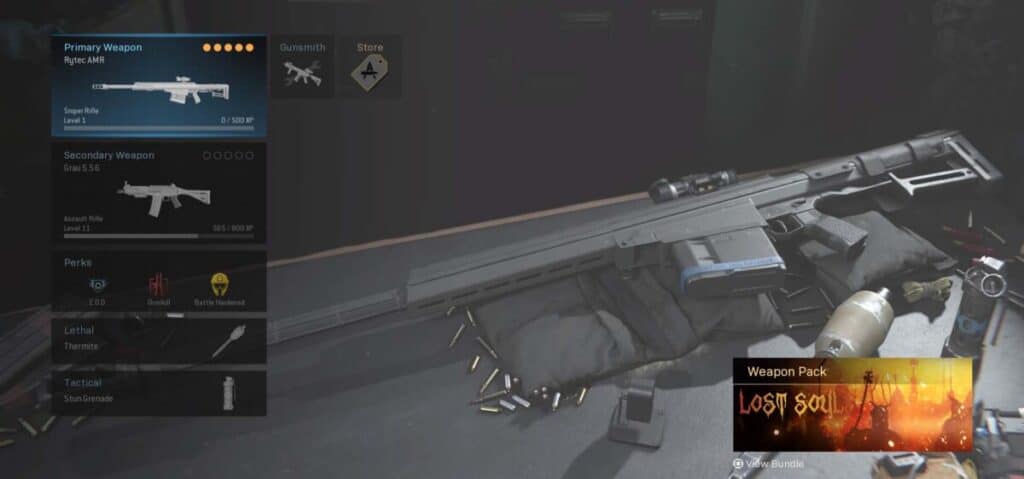 Secondary: Grau 5.56
Perk 1: E.O.D.
Perk 2: Overkill
Perk 3: Battle Hardened
Lethal: Thermite
Tactical: Stun Grenade
Class 2 – Rytec Max Accuracy and Control
This class is geared for max accuracy and control of the rifle. It works perfectly when you're perched on a mountain top or in any other strategic position. Attach the following onto the Rytec AMR: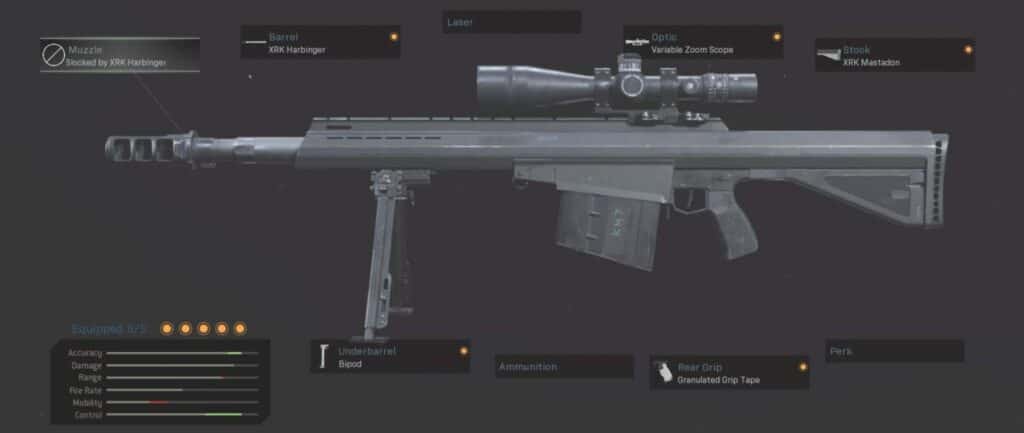 XRK Harbinger
Variable Zoom Scope
XRK Mastadon
Bipod
Granulated Grip Tape
Class Setup
The remainder of the class is built for stealth and speed. It's one thing being accurate but being fast is another. Ghost and Cold Blooded work great together and Amped allows you to whip out your secondary quickly.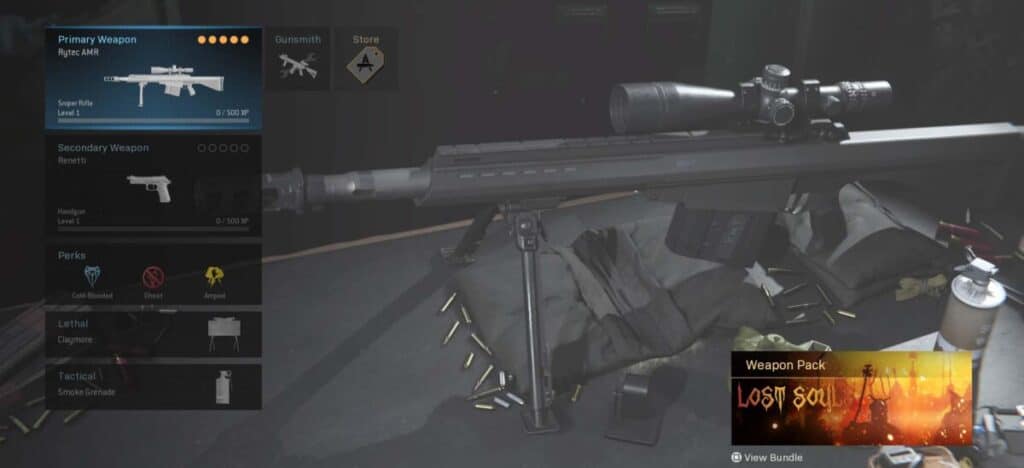 Secondary: Renetti
Perk 1: Cold Blooded
Perk 2: Ghost
Perk 3: Amped
Lethal: Claymore
Tactical: Smoke Grenade
Class 3 – Rytec Quickscope King
The final Rytec class is perfect for you quickscopers out there. Equip these attachments for super snappy ADS times: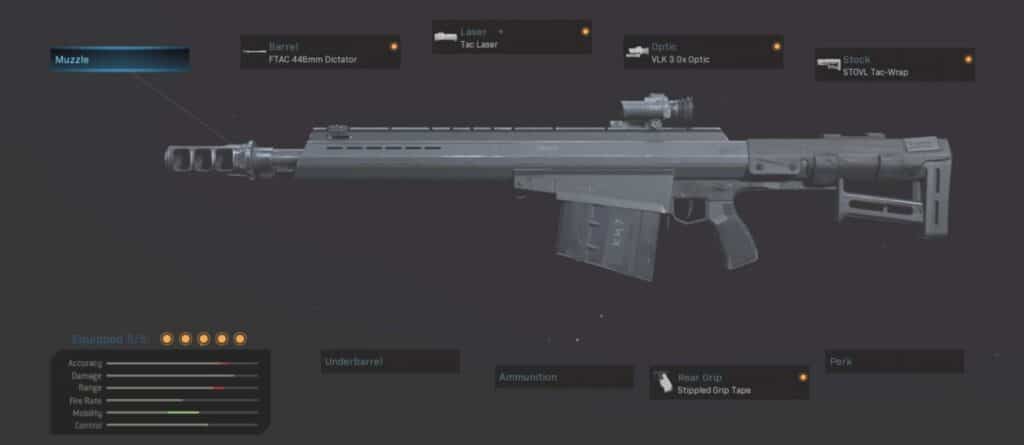 FTAC 448m Dictator barrel,
Tac Laser,
VLK 3.0x Optic,
STOVL Tac-Wrap,
Stippled Grip Tape.
Class Setup
The remainder of the class is built with speed and reconnaissance in mind. Double Time is great for getting around the map quickly, while Tracker gives you crucial info on the enemies whereabouts. Restock keeps you loaded with C4's and Flashbangs.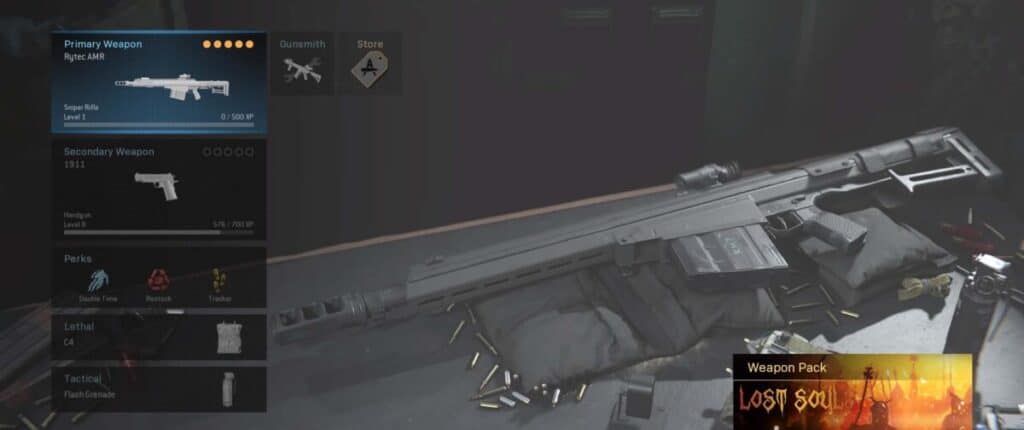 Secondary: 1911 
Perk 1: Double Time
Perk 2: Restock
Perk 3: Tracker
Lethal: C4
Tactical: Flash Grenade