Xenia Canary is an emulator specifically designed for Microsoft Xbox 360 games. Emulators, in general, are software programs that mimic the hardware and functionality of a specific gaming console or system. They allow us to play games from older consoles on our modern devices, like PCs.
Now, why do we gamers enjoy emulators so much? Well, there are several reasons! First off, emulators grant us the ability to relive the nostalgia of playing our favorite classic games.
It's an amazing feeling to revisit those titles that defined our gaming experiences and take a trip down memory lane. With Xenia Canary, we get the chance to play Xbox 360 games, which were hugely popular in their time.
Another reason we love emulators is the convenience they offer. Sometimes, getting our hands on an original console and game cartridges or discs can be challenging or expensive. Emulators solve this problem by allowing us to play these games directly on our computers without needing the actual console.
Plus, with emulators, we can enhance the gaming experience by using modern hardware, such as high-resolution displays, powerful graphics cards, and customizable controllers.
Xenia Canary, specifically, is an exciting emulator because it's constantly being developed and improved by a dedicated team.
It's part of the Xenia project, an open-source initiative aimed at emulating Xbox 360 games as accurately as possible. The Canary version, in particular, is an experimental branch that receives frequent updates and new features, making it a cutting-edge option for Xbox 360 emulation.
Emulators like Xenia Canary also bring the joy of gaming to a wider audience. They make it possible for gamers who missed out on a particular console generation to experience its best games without needing to buy the original hardware.
It's a fantastic way to discover hidden gems or explore a library of games that may have otherwise remained inaccessible.
However, it's important to note that using emulators should be done within legal boundaries. It's crucial to own the original games you play on emulators to respect copyright laws and support game developers.
If you liked this guide, check out more of our retro gaming and emulation guides here.
Here are the detailed steps to get it up and running:
How To Install Xenia Canary
Step 1: Open your web browser
To begin, open your preferred web browser on your PC. You can use popular browsers like Google Chrome, Mozilla Firefox, or Microsoft Edge.
Step 2: Visit the Xenia Canary Github
Next, go to the official Xenia Canary GitHub Page. Once there, download the latest Xenia Canary build to your computer. To download the emulator, click on the file named xenia_canary.zip. It will automatically start downloading when you click on it.

Step 3: Extract the folder
For this step, you will need an extraction tool such as 7Zip or WinRAR. Either tool works fine. Extract the xenia_canary.zip folder to your computer.
Step 4: Launch Xenia Canary
After you have extracted the folder. You will see two files inside, one is the xenia_canary emulator and the other is a License file. As seen in the image below.

Launch the emulator by double-clicking on the application. The emulator will launch with no actual installation required.
After you launch the emulator, two more files will be placed in your folder. Your folder should look like the image below.

Step 5: Download Game Patches
Head over to the Xenia Canary Game Patches Github page and download the game patches folder. Click on the download link to download. You will also need to extract this folder because it's a Zip.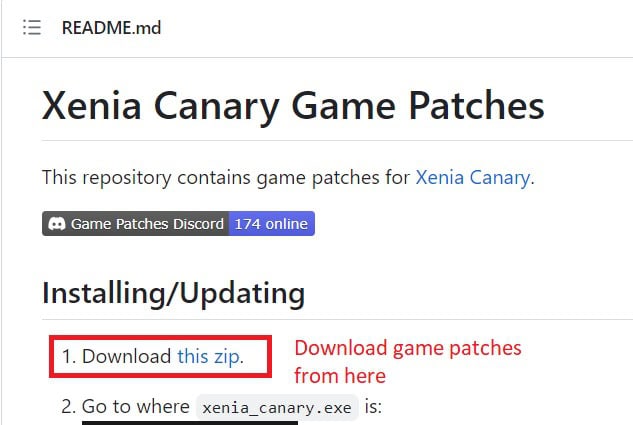 After you extract it, open the game-patches folder and place the "patches" folder into your main Xenia Canary folder.
After you have the patches folder in your main Xenia Canary folder. Your folder should look like this. Never mind the other files and folders, you don't have them because you haven't played a game as of yet.
Depending on what games you want to play, you will need to open the patches folder and search for the game you want to play. When you've found the game. Click on the patch file and open it with Notepad or another similar program.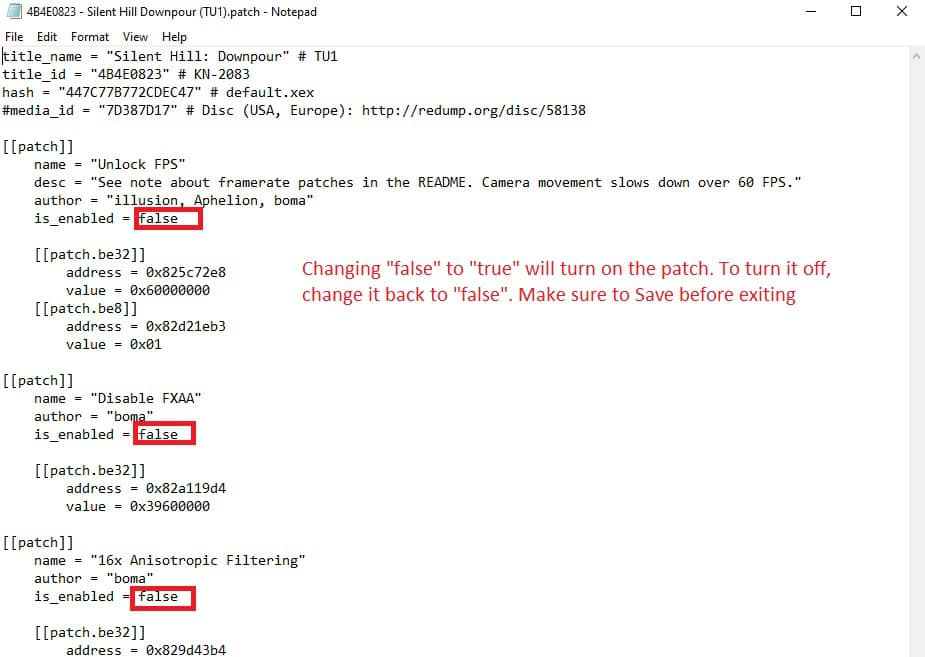 Read through the patches and what they do. If you want to enable the patch, change "false" to "true". Make sure to select "File" in the top left, and then "Save", to save the changes.
Step 13: Start playing Xbox 360 games
Once you have configured Xenia Canary, you're ready to start playing Xbox 360 games on your PC! You can load game files by selecting "File" and "Open" within the emulator and navigating to the location where your Xbox 360 game files are stored.
There are many ways to get Xbox 360 games online. Do a search around to find them. Internet Archive is usually a good place to get them. You should be able to find tons of places.
You should really extract them from your already-bought discs. 😏
That's it! You have successfully downloaded and installed Xenia Canary, allowing you to enjoy Xbox 360 games on your PC. Have fun gaming!