This tuning guide takes you through the Best Trueno AE86 Drift Tune in Forza Horizon 5. We break down each part and tuning needed to turn the Trueno into an animal on those Horizon 5 canyons.
The Toyota Trueno has featured in every Forza title except Motorsport 7. It's a fan favorite of old-school JDM and Forza fans alike. It can be acquired through earning 44 PTS during the spring festival. You can also win it in a wheelspin or buy it at the Auction House.
If you like this drift tune guide… make sure to check out more of our Horizon 5 drift tune guides while you're here.
Vehicle History
The Toyota Trueno was produced from 1983 to 1987. It is also referred to as the Corolla Levin Sprinter. The word Trueno is Spanish for thunder while Levin means lightning in middle age English.
Drift Tune Specs
Below are the specs for the drift tune after all modifications are applied. She's sitting at 514HP and 436 lbs of torque.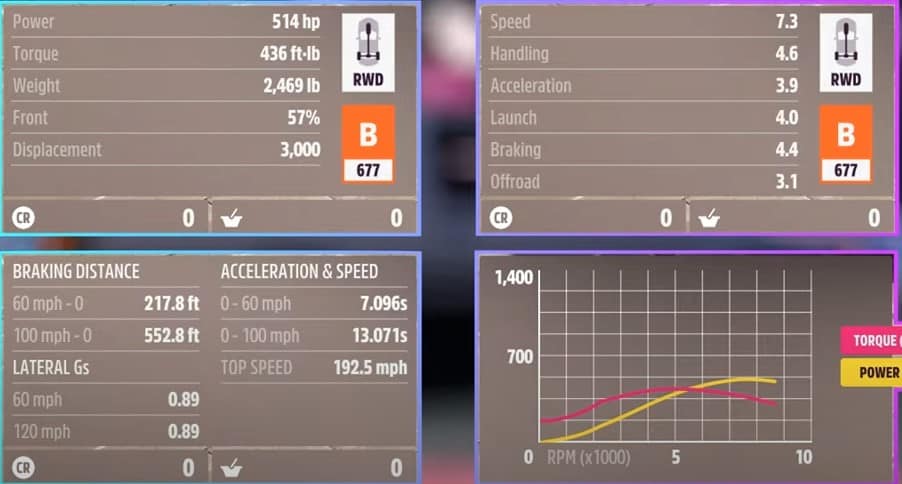 Drift Car Parts
Apply these exact parts to the Trueno AE86 drift build. This baby runs smoothly and is very easy to handle even for a beginner drift enthusiast. We've swapped out the engine with a 2.6L I6 TT. Pretty much all the other parts are maxed out bar the drivetrain, weight reduction, exhaust, twin-turbo, and flywheel.
Engine: 2.6L I6 – TT
Drivetrain: Stock
Tire: Stock
Front Tire Width: 215mm
Rear Tire Width: 235mm
Front Track Width: Max
Rear Track Width: Max
Clutch: Race
Transmission: Race
Driveline: Race
Differential: Drift
Brakes: Race
Spring and Dampers: Race
Front Anti Rollbar: Race
Rear Anti Rollbar: Race
Chassis Reinforcement Roll Cage: Race
Weight Reduction: Stock
Intake: Race
Fuel System: Race
Ignition: Race
Exhaust: Stock
Camshaft: Street
Valves: Race
Displacement: Race
Pistons/ Compression: Race
Twin Turbo: Stock
Intercooler: Race
Oil/Cooling: Race
Flywheel: Stock
Drift Tuning
Take down the exact tuning specs you see below. These have been tested already and are the best settings to use for the best and easiest drift handling on the Trueno AE86. Enjoy the tune and let us know in the comment section below if you would make any changes.
Tires
Gearing
Final Drive: 2.75
1st: 3.50
2nd: 2.50
3rd: 1.80
4th: 1.30
5th: 1.10
6th: 0.80
Alignment
Camber
Toe
Front Caster
Antiroll Bars
Springs
Ride Height
Damping
Rebound Stiffness
Bump Stiffness
Aero
None
Brake
Braking Force
Balance: 25%
Pressure: 25%
Differential
Rear
Acceleration: 100%
Deceleration: 100%
Summary
Now you've got the best drift tune for the Toyota AE86 Trueno. Make sure to let us know in the comments section below if you have your own tune to share.
This tune was originally created by ACXT Ant on Youtube. Check out his channel sometime.