This tuning guide takes you through the best Dodge Charger drag tune in Forze Horizon 5. We layout the exact parts and tuning tweaks you need to make the Hellcat an animal down the quarter-mile.
The Dodge Charger is an icon of American Muscle cars. More so the older model than the hellcat but still, this model is a beast in its own right.
Vehicle History
The Charger is an American car produced by Dodge since 1966. It's available in many different styles including sedan, muscle, and luxury. The Charger Hellcat is part of the 7th generation of Chargers and features a preinstalled widebody kit.
Drift Tune Specs
The specs of this Charger drag tune are below. This pony hits 60MPH in 1.092s. She's packing 1,041 HP and 896ft-lb of torque.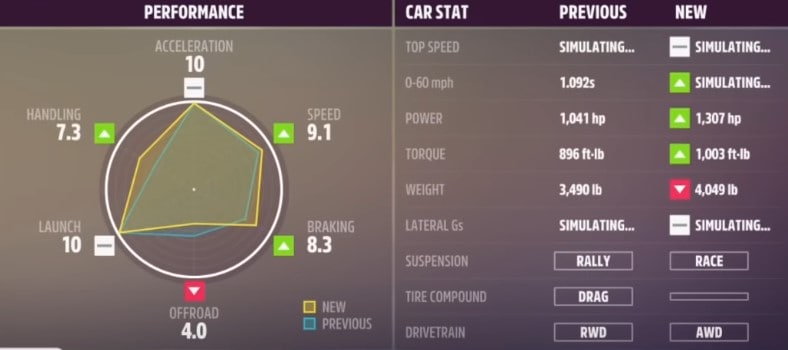 Drag Car Parts
Copy the exact parts as shown below to make the ultimate Dodge Charger Hellcat drag tune. There are other parts you can add such as rims but they're not important. They just change the cosmetic look of the car and don't change performance. Just be careful about adding some rims as they may add weight to the car which you should try to avoid.
Engine: Stock
Drivetrain Swap: Stock
Tire: Drag Tires
Front Tire Width: 275mm
Rear Tire Width: 355mm
Rear Track Width: Upgraded Max
Clutch: Race
Transmission: Race/ 6 speed
Driveline: Race
Differential: Race Diff
Brakes: Race
Spring and Dampers: Rally
Front Anti Rollbar: Race
Rear Anti Rollbar: Race
Chassis Reinforcement Roll Cage: Stock
Weight Reduction: Race
Intake: Race
Fuel System: Race
Ignition: Race
Camshaft: Race
Valves: Race
Exhaust: Race
Displacement: Race
Pistons/ Compression: Race
Intercooler: Race
Oil/Cooling: Stock
Flywheel: Race
Drag Tuning
The following tweaks need to be made in order to create the drag tune. You can mess around with it if you want but I feel like it doesn't need any changing. This baby hits 60MPH in less than 2 seconds.
Tires
Gearing
Final Drive: 2.80
1st: 3.80
2nd: 2.55
3rd: 1.95
4th: 1.50
5th: 1.17
6th: 0.77
Alignment
Camber
Toe
Front Caster
Antiroll Bars
Springs
Ride Height
Damping
Rebound Stiffness
Bump Stiffness
Aero
None
Brake
Braking Force
Balance: 50%
Pressure: 100%
Differential
Acceleration: 100%
Deceleration: 100%
Summary
That's the Dodge Charger Hellcat Drag Build for Horizon 5. Make sure to check out more of our Forza Horizon 5 Drag Builds while you're here.
This tune was originally made by MARZ TUNING, check out his great content some time.