The Groza is a fully automatic Assault Rifle in Call of Duty Black Ops Cold War. Its described as having excellent handling speeds and improved damage.
The Groza has a fair damage range but it makes up for this with a fast fire rate. 
In this weapon guide, we will break down the best attachments and class setups to use when running the Groza in Cold War. We have designed the class setups to suit a range of playstyles so there is something for everyone.
Weapon background
The Groza has never been featured in a Call of Duty title before. So welcome to the COD community Groza. 
Stats
Damage: 34
Rate of Fire: 750 RPM
Recoil: Low to Moderate(vertical and to the left)
We can see from the stats above that the Groza is a 5 to 6 shot to kill assault rifle. Players can wipe an enemy in fewer shots provided they land a headshot. The Groza has low to moderate recoil with the recoil pattern kicking vertically and then to the left. 
Groza Cold War Best Attachments
The best attachments for the Groza in Cold War are:
16.7" VDV Reinforced Barrel
VDV 50 RND Fast Mags
Spetsnaz Grip
Microflex LED
The 16.7" VDV Reinforced Barrel doubles the affective damage range and increases the bullet velocity by 40%. The VDV 50 Rnd Fast Mags adds 67% mag and ammo capacity and adds 35% reload quickness. We also recommended a grip such as the Spetsnaz which controls vertical recoil.
Best Class Setups
Class 1 – Groza Annihilator
The Groza Annihilator class is a perfect all-round class that works very well with a variety of playstyles. This class highers accuracy and DPS. However, it has slightly lowered movement speed because of the added ammo capacity.
Gunsmith:
Microflex LED
KGB Eliminator
16.7" VDV Reinforced 
Infiltrator Grip 
VDV 50 RND Fast Mag 
Class Setup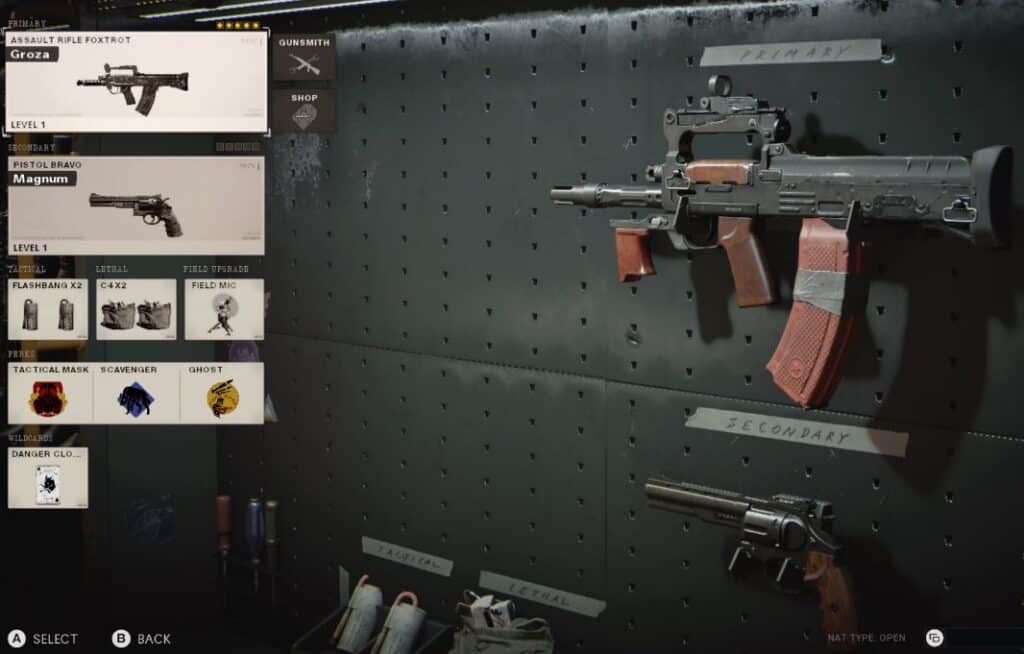 The remainder of the Annihilator class setup is geared for all-around gameplay. In this class, we utilize the Danger Close Wildcard to get 2 Tacticals and Lethals.
Secondary: Magnum
Perk 1: Tac Mask
Perk 2: Scavenger
Perk 3: Ghost
Lethal: C4 x2
Tactical: Flashbang x2
Field Upgrade: Field Mic
Wildcard: Danger Close
Class 2 – Groza Ninja
The Groza Ninja does exactly what it says on the tin. Here we utilize the GRU Suppressor combined with Ninja to turn you into a silent assassin. 
Gunsmith:
GRU Suppressor
16.7" VDV Reinforced
Spetsnaz Grip
GRU Mag Clamp
GRU Elastic Grip
Class Setup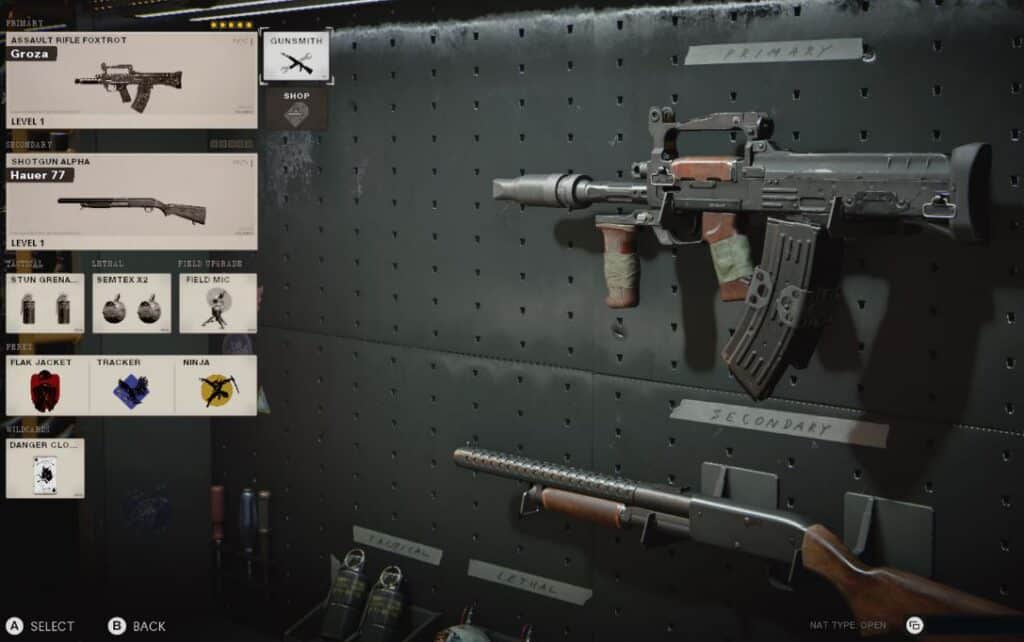 The rest of this class is built for keeping you silent and loaded with equipment. The perk selection caters well to game modes such as domination or even Search and Destroy.
Secondary: Hauer 77
Perk 1: Flak Jacket
Perk 2: Tracker
Perk 3: Ninja
Lethal: Semtex
Tactical: Stun Grenade
Field Upgrade: Field Mic
Wildcard: Danger Close
Class 3 – Groza Balls Deep
This class setup is tuned for all-out warfare. In this gunsmith, we load 8 attachments onto the weapon with the help of Gunfighter.
Gunsmith:
Microreflex LED
KGB Eliminator
16.7" VDV Reinforced
KGB Target Designator
Bruiser Grip
VDV 50 Rnd Fast Mag
Gru Elastic Wrap
KGB Pad
Class Setup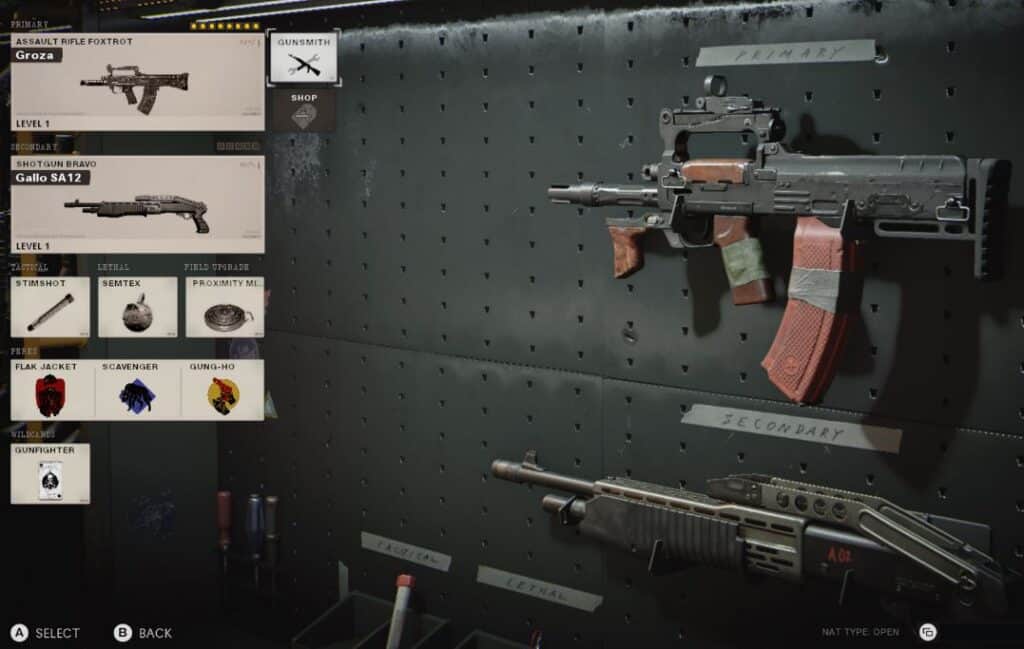 The remainder of this class is built for speed and aggression. Here we use Gung-ho which allows you to fire weapons and use equipment while sprinting. It also allows you to swap weapons faster, take less damage from falling, and adds accuracy while sliding. 
Secondary: Gallo SA12
Perk 1: Flak Jacket
Perk 2: Scavenger
Perk 3: Gung-Ho
Lethal: Semtex
Tactical: Stimshot
Field Upgrade: Proximity Mine
Wildcard: Gunfighter
ARTICLE CONTRIBUTOR: Jer