Looking to play Modern Warfare 2 again? Well, IW4x allows you to jump straight back into the action. Along with dedicated servers and a whole bunch of cool new features. 
It is essentially an open-source project created by fans of Modern Warfare 2. It allows you to create your own dedicated servers along with adding many other features such as new weapons, game types, and even maps. 
We recently downloaded it again just for those nostalgia feels and damn it feels good. We played a few games of Team Deathmatch on Skidrow and it's still the same action-packed fun it was all those years ago.
If you want those nostalgia feels back. You can easily download and install it using our quick guide.
We have conveniently packed all the games files you need into one folder and uploaded it to our MediaFire account to make things quick and easy for you.
How to Download and Play MW2 for Free – IW4x Install
The first and only step is to head over to our Google Drive and download the file. We have compressed the file into a Rar format so you will need WinRAR or a different Zip opening software on your computer.
Download the game by using the button below. Please note, the folder is 13GB so it may take a while depending on your internet speed.
If you don't have WinRAR. You can use the button below to download it. It's free to use the software.
Once you have the file downloaded. Create a folder on your computer and call it IW4x. Now extract the IW4x folder you downloaded into the new IW4x folder you just created on your computer.
When the file is done extracting. Open the file and run the IW4x exe file to play the game. 
Your folder will look like this when you open it. Simply run the iw4x exe file(underlined in red below) to play the game.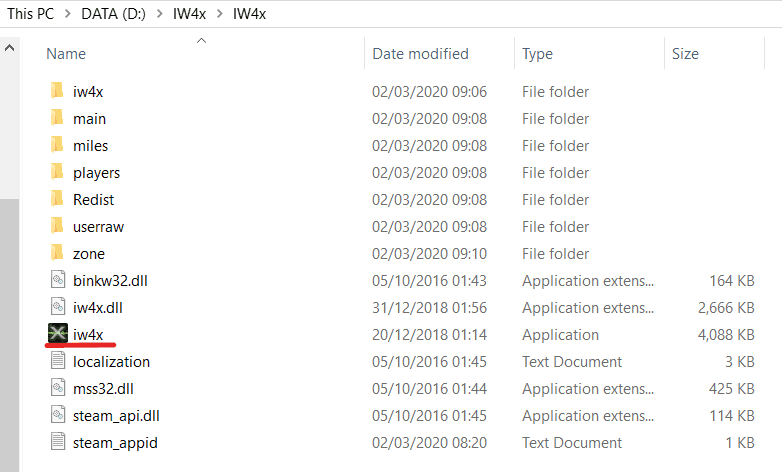 That's it, you now have IW4x on your computer, simple!
IW4x FAQ and Troubleshooting
I have MW2 on Steam. Can I play IW4x through that?
Yes you can. simply copy the game files to a new folder then drag iw4x files into the copied folder. Done.




Can I play IW4x on Controller?
I keep getting a black screen when launching IW4x?
This happened to us twice. We found 2 solutions that may work for you:
1. Go into your Nvidia setting and turn off the overlay setting. Also disable any other overlay setting you may have. For example, Discord, Steam, etc.
2. Disabling the fullscreen mode by adding this command to your directory. Simply copy and paste this file into your game file.
Download the file here.
Experiencing INVALID CONNECTION DATA when launching the game
Try disconnecting from the internet and launching the game. When the game loads, reconnect to the internet.
I get this error "the code execution cannot proceed because 93dx9_40.dll was not found". How to fix?
You need to download Direct X onto your computer. Check out Microsofts latest Direct X sofware guide here.
To be honest there is a lot of other issues that arise when playing IW4x. If you want to find out more or are looking for a solution on how to fix an issue.
Check out the official IW4x Support Center. Here they list all the recorded issues and possible solutions.
Check out more of our tech tips and modding guides below. We love playing mods and messing around with old school games. Especially COD and old racing games