Are you looking for a new way to play Call of Duty: Modern Warfare 3? Check out Plutonium, a mod that adds all sorts of new features to the game. With Plutonium, you can customize your gameplay experience to make it exactly how you want it. Best of all, to download and install Plutonium MW3 is free! So what are you waiting for? LFG!
We also have a guide on how to download and install Black Ops 2 Plutonium that you should check out if you're interested.
Download and Install Plutonium MW3: Step By Step
There are a few ways to download MW3 Plutonium. If you already have the game the process is quite easy. Skip to downloading the DLC section of the guide.
If you don't have the game we recommended buying it on Steam first. However, if you can't buy it on Steam there is a way to get the game for free through Steam.
Keep reading to find out more.
Method 1: Download MW3 Dedicated Server on Steam
This method involves downloading an MW3 dedicated server via Steam. Of course, you need Steam installed on your computer so if you don't have Steam you can download it from their official website.
Next download the official MW3 Dedicated Server via Steam here.
If this method doesn't work to download the dedicated MW3 server. You can try method 2 below which shows you how to do it manually.
Method 2: Download MW3 Dedicated Server Via Steam Library
Step 1: Head over to Steam Library and select the dropdown menu under Home. Tick the "tools" option.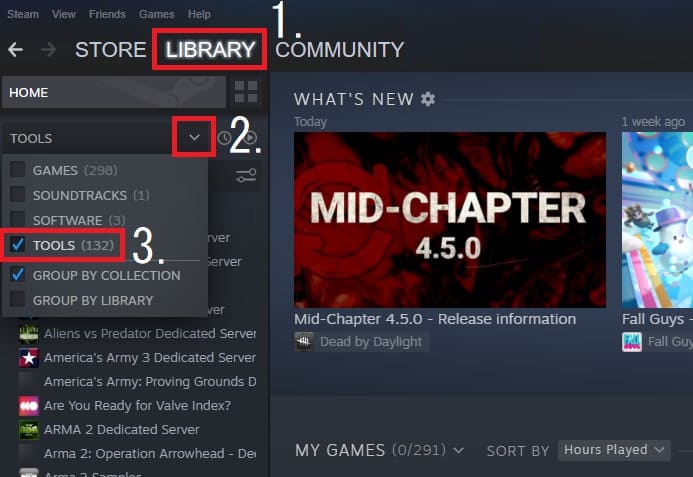 Step 2: Next, search for Call of Duty Modern Warfare 3 Dedicated Server. When you find it, select the setting clog on the right as shown in the image below. Then select Properties.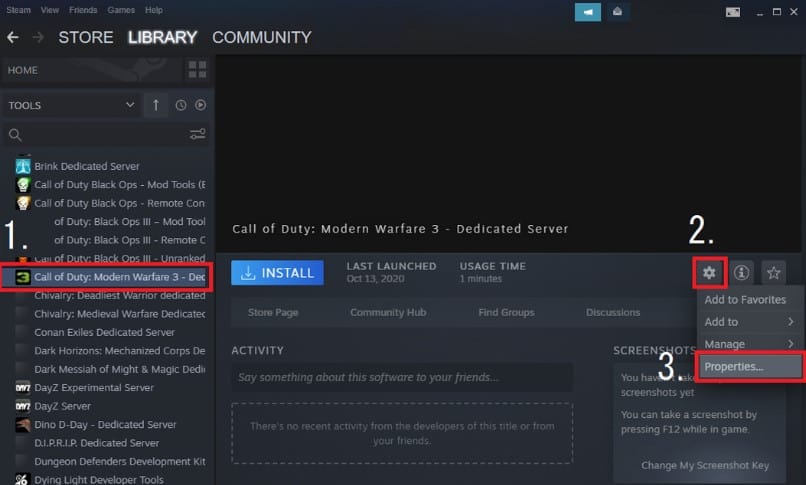 Step 3: Then, while in properties. Make sure the language is set to English. It must be set to English because if it's not changed this will result in file errors and the game may not work.
Step 4: Finally, back out of the properties menu and select install (the blue button), and then finish.
Now just wait for the installation to complete. When it is finished downloading, you'll have a free copy of MW3.
The next step is to download the DLC for MW3. This will ensure you have the complete experience when playing MW3 Plutonium.
Download MW3 DLC
Step 1: Head over to the link below and download the MW3 DLC files. This ZIP folder is about 3GB so may take some time to download depending on your internet speed.
Step 2: Extract the folder onto your computer. You'll need a ZIP Extraction tool for this. We use WinRAR but any tool works. You can download many for free. Simply Google free ZIP extraction tool.
Step 3: Open the extracted folder and place main and zone folders into the MW3 Game Folder.
If you dont know how to find the MW3 games folder. By default its placed in this folder address:
steamapps/common/Call of Duty Modern Warfare 3
Please see the image below for reference. In the image below you can see that you move the main and zone folders into the MW3 main game folder.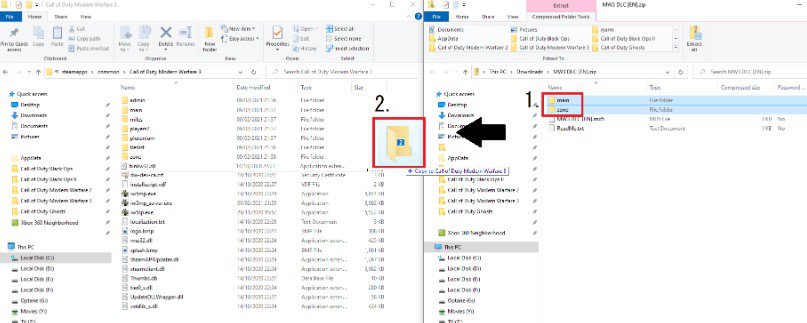 So, now you have a complete version of MW3 on your computer. Next, its time to download Plutonium and get blasting.
Download Plutonium Launcher
Use the link below to download the Plutonium Launcher. You'll need this to actually play on the Plutonium servers and avail of the additional features Plutonium offers.
Save the Plutonium exe to anywhere you like on your computer.
Next, run the exe and wait for any updates to download if there are any.
If you don't have a Plutonium account. Head over to the official forums to create an account. You will need this to play Plutonium.
Once you've made an account login into Plutonium. When you run the launcher you should see the prompt to login. See image below.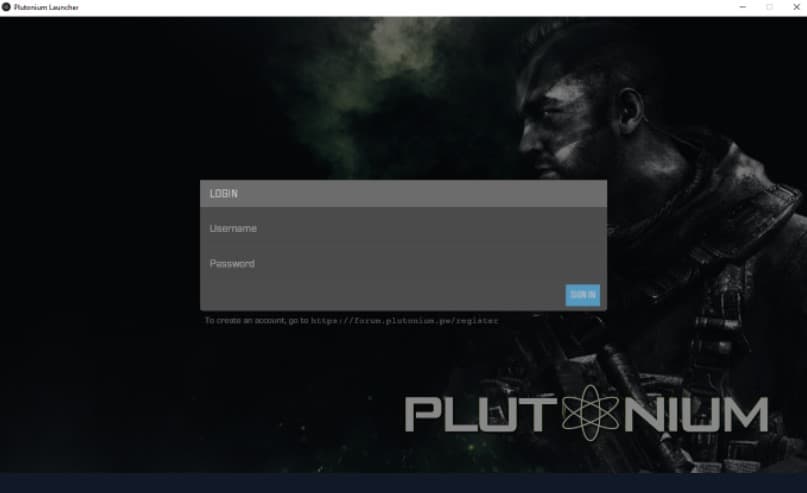 Finally, select MW3 and click the blue setup button. This will take you to your File Manager on Windows. Search for your MW3 Game Folder and select it as the folder to use.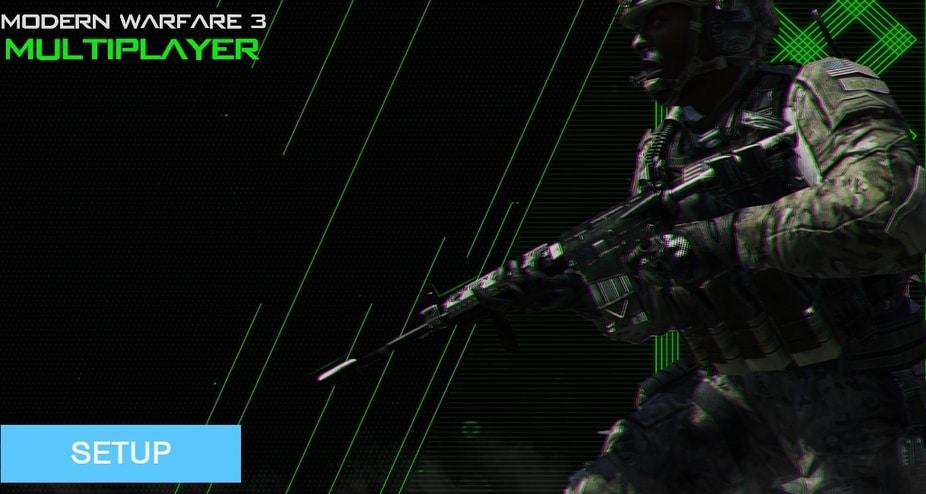 When it's setup and ready, the button will now be green and say Play.
Enjoy MW3 Plutonium!
Related Questions MW3 Plutonium FAQ
Is Plutonium MW3 legal?
Yes, it's legal. Theres nothing that goes against Activision's terms of service with this mod. It's just a third-party game launcher. However, downloading copyright files from the internet for free may be against copyright laws in your country. That's why we recommend buying the game on Steam.
Is Plutonium MW3 Safe or a Virus?
Yes, it's completed safe and no Plutonium is not a virus. Thousands of people play BO2, MW3, and WAW every day using Plutonium. It's completely safe. If your antivirus flags it as a virus, this is s false positive. You need to allow Plutonium past your antivirus and then it will work.